What's Actually in the Impossible Burger and Is It Any Good for You?
The Impossible Burger has been around since 2016, but this meatless burger has resurfaced recently after a second push by marketers early this year to drive the fake beef protein patties into fast-food and fast-casual restaurants across the U.S.
White Castle started selling Impossible Sliders in April. Qdoba Mexican Eats hawks Impossible meat in tacos and bowls. Even stodgy ol' Burger King is going to roll out an Impossible Whopper, apparently.
With all this false-meat fervor, you probably have a few questions.
What's Actually in an Impossible Burger?
Ripped from the company website, here's the ingredients list:
Water, Soy Protein Concentrate, Coconut Oil, Sunflower Oil, Natural Flavors, 2% or less of: Potato Protein, Methylcellulose, Yeast Extract, Cultured Dextrose, Food Starch Modified, Soy Leghemoglobin, Salt, Soy Protein Isolate, Mixed Tocopherols (Vitamin E), Zinc Gluconate, Thiamine Hydrochloride (Vitamin B1), Sodium Ascorbate (Vitamin C), Niacin, Pyridoxine Hydrochloride (Vitamin B6), Riboflavin (Vitamin B2), Vitamin B12.
Considering that the steak you buy from your butcher should have one ingredient ("beef"), that ingredients list might seem a little daunting. And that probably brings you to your next question…
Is the Impossible Burger Healthy?
Basically, it's a soy burger. It's made of soy protein. There's some fat from the coconut and sunflower oil. And then a bunch of binders so it all sticks together. And then they throw in all these vitamins. But it's soy. Not Impossible. Just soy.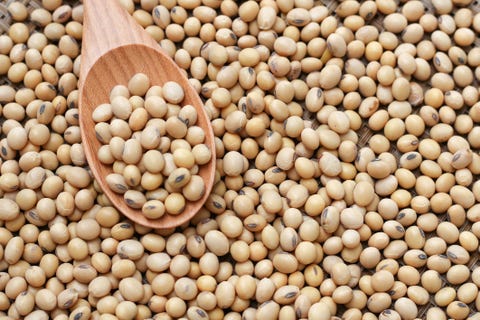 Getty Images
Now, Impossible Foods will tell you that there's nothing to fear when it comes to soy, and that's actually true.
All the way back in the 2000's a few small studies and rodent studies appeared to show that compounds within soy called phytoestrogens might disrupt hormones, which could lead to low sperm count and man boobs.
Several news outlets (including this one), may have overblown those findings. "Such a link has never been substantiated in human studies," says Qi Sun, M.D. assistant professor in the Department of Nutrition at Harvard, told Men's Health in October 2018. "I don't think this is a concern at all."
In fact, men who consumed diets that included soy had a 29 percent reduced risk of developing prostate cancer, according to a 2018 meta-analysis published in the journal Nutrients.
And so then there's the basic breakdown of important nutrients.
According to Impossible Foods, one 4-ounce Impossible burger patty contains 240 calories, 19 grams of protein, 9 grams of carbohydrates (3 grams of which are fiber), and 14 grams of fat (0 grams of which are trans fat).
Compare that to one 4-ounce grass-fed burger patty, which, according to the USDA, contains 224 calories, 22 grams of protein, 0 grams of carbohydrates (and so 0 grams of fiber), and 14 grams of fat (0.8 grams of which are trans fat, but the natural kind, and yes there are natural forms of trans fat).
So is the Impossible burger healthy? Sure. Is it healthier than a grass-fed beef burger? Well, no. Because there's nothing really all that wrong with the occasional grass-fed beef burger either.
You can start a whole environmental debate here, but Men's Health isn't about to rip open that rabbit hole (and that's probably not why you're here anyway).
Perhaps the better way to think of this whole protein vs. fauxtein debate is to not pick a side, but adopt the stance of diplomat. Men's Health has long preached the benefits of an inclusionary diet—one that makes room for all types of protein: chicken, beef, salmon, lamb, mollusks, crustaceans, and yes even tofu.
Because if you're only eating tofu, you're missing out on the heart-healthy omega-3s in fatty fish. And if you're only eating salmon, you're missing out on the beneficial properties of CLA within well-raised cattle. And so on…
Well, Does This Impossible Burger Taste Good?
Look, I'm just one man. But when I tasted my first Impossible burger, I wasn't all that surprised because I had sort of tasted the Impossible burger before.
The Impossible burger is like tofu (largely because it's from the same plant, the soybean) in that it tastes like whatever you put on it. I had my Impossible burger dressed with lettuce, tomato, onion, ketchup, and yellow mustard. It tasted like lettuce, tomato, onion, ketchup, and yellow mustard.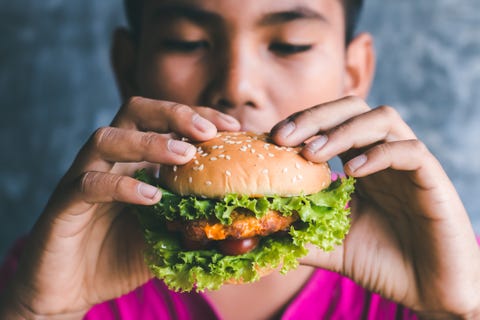 Getty Images
I even picked out a little of the patty and tasted it and though, "Hey, now this is pretty good." (Note: I didn't say "Hey, now this is the best dang burger I've ever had and I'm never ever going back to beef.")
The Bottom Line
Slap a "plant-based protein" sticker on this thing and pop it onto every fast food menu in these here 50 states, but a soy burger is still a soy burger.
If that gets you excited, or at least curious, good on you. Give the Impossible burger a try. If you like it, think about working it into your diet. If you don't, try something else.
The challenge to expand the healthful foods you eat doesn't have to be impossible.
Source: Read Full Article