'I Lost 336 Pounds After I Had To Use An Industrial Scale To Weigh Myself'
Even at a young age, I was always the biggest girl in class. That's because food was a major part of my life. Any feeling I had—happy, sad, bored, excited—I saw food as my partner, and food was the focus of every celebration.
When I finally reached adulthood, I didn't understand what it meant to have a healthy relationship with food, let alone what healthy food even looked like. Instead, I ate in excessive amounts, constantly snacking and always taking second or third servings.
One day, I had to use an industrial scale to weigh myself instead of a normal scale—that was a huge wake-up call.
I landed my dream job as an agricultural teacher in 2016, but I noticed my weight hindered my ability to provide my students the experience they deserved. (I couldn't fit behind the steering wheel of the school van to take them on field trips, for example.)
Then, after a high school reunion, a friend reached out to me about my weight. She was a coach with Optavia, a weight-loss program, and she believed she could help me on my health and weight-loss journey. I decided to try it for a month (I figured I didn't have anything to lose), but I had to weigh myself before starting. The industrial scale I had to use said I weighed 514 pounds.
My views on food and health changed dramatically.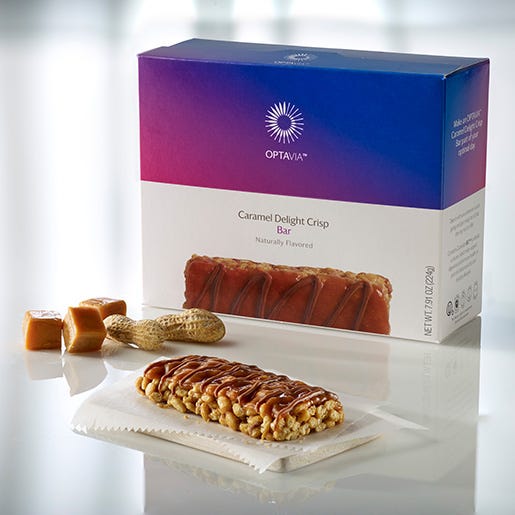 I began to view food as fuel. And now, I only want to fuel my body with food that makes me feel good, which means lots of veggies and lean proteins. I also supplement my daily diet with Optavia products—like their Caramel Delight Crisp Bars—for snacks throughout the day to keep myself on track.
Now, during family gatherings, I don't surround myself with food; I focus on family instead. I'm able to enjoy the company and don't feel over-stuffed or regretful. I've formed new relationships and for the first time, I enjoy being in public.
Changing everything at once seemed too daunting, so I didn't work out when I first changed my diet.
View this post on Instagram
In a world filled to the brim with judgement, why would I choose to live life out loud? Doing so has allowed me to not simply live, but to thrive! In the beginning, it was for me. Living out loud provided accountability. I had so many "day 1's" that I can't fathom trying to count them. This last time it was different! It did take me losing 100 pounds, and a guiding nudge, to begin talking about my journey openly. What if I failed? What if it didn't stick? What if I did it, but then gained it back? Get rid of those "what if's"! You're only holding yourself back. As afraid as I was, I slowly began sharing more. The next thing you know, the most beautiful thing happened. Community! People I followed helped me in the beginning, and now I get to do that for others. I don't wish being 500+ pounds on anyone, but now having escaped morbid obesity I can use what once caused so much pain and anxiety in my life as a key to unlock other people's prisons. Living life out loud is still so new to me, and still makes me nervous. But I'm ever so thankful for each of you. Your support, your sharing, and your willingness to band together to help each other. Social media doesn't have to be a negative space. Make it work for you! Find your tribe, and love them hard. Life's a party! 🎉🎉🎉 —————————————————————— #exercise #progressnotperfection #family #lol #motivation #girlswholift #goals #transformation #weightlossmotivation #celebration #health #weightlosstransformation #fitfam #follow #life #inspiration #christmas #BeforeAndAfter #puns #weightlossjourney #weightlosscommunity #igaccountability #fattofit #determined #transformationtuesday #effyourbeautystandards #smile #ootd
A post shared by Brittany May (@miss_itty_britty) on
Instead, I tried to add in healthy habits, little by little, like parking further away or taking an extra lap around the halls at school. Eventually, I added in walks, both outside and at the gym.
My mind finally shifted from the gym being a place of punishment to a place of celebration. I started with just cardio equipment and over time, I added in group fitness classes. I now attend boot camp-style group workouts to put my body to the test.
I lost 336 pounds in just over two years—but I had to come to terms with something unexpected: loose skin.
View this post on Instagram
#Flex #Friday :Single digits!!! 9 days until skin removal!!! I didn't realize just how many ways my weight was limiting me until I started losing weight and gaining freedoms. I was still my positive self, but I was jaded in thinking I was living life to the fullest. While this newly deflated figure does cause pain and discomfort, I can do so many more things than before. This is a brand new world, and I can't wait to see how much more this body can do once it's free of this skin! Remember folks, no matter where you are in your journey, give yourself grace. We tend to be our own worst Enemies, when we should really be our biggest cheerleaders! Self care is NOT selfish, and you can most definitely Do. Hard. Things. ❤️ ————————————————————————As we get closer don't forget to follow @mdmoya.lewisburgplasticsurgery for operating room footage and @true.believr for behind the scenes and recovery updates! —————————————————————- #weightloss #weightlossjourney #fattofit #obesetobeast #fit #fitfam #fedup #wedding #looseskin #excessskin #plussize #selfcare #skin #selflove #plasticsurgery #tummytuck #skinremoval #skinremovalsurgery #obesetobeast #gym #follow #fitnessmotivation #exercise #extremeweightloss #selfcare #countdown #bra #tattoo #sassyoliveselfie
A post shared by Brittany May (@miss_itty_britty) on
I spent about a year searching for the right surgeon. I had four different consultations, but when i finally left an appointment feeling energized, I knew I had met my doctor. My surgeon focused on tailoring the procedures to me and my weight loss, and understood my desire to remove all of what caused pain in one shot, since I couldn't afford multiple surgeries.
I had loose skin on most parts of my body, but my main focus was the midsection and inner thighs. My surgeon and I decided on a corset body lift, which removed excess skin and reshaped my torso, and a medial thigh tuck to remove skin from my thighs.
My surgery took place on January 14, 2019, and it took 13.5 hours. There were nine feet of incisions made and a whopping 13 pounds of skin removed.
Overall, I've lost 336 pounds over the course of 23 months. For those looking to start their journey to health, I would say to take it one day, one habit at a time. Don't get overwhelmed with wanting to lose a large number of pounds. Take small steps and make a plan. Don't let one moment derail you.
View this post on Instagram
6 weeks! Holy smokes! This past week was tough physically, mentally, and emotionally. I know I was on my feet too much, but with FFA Week I stayed off of my feet as much as possible. I've got another post-op appointment this week! We'll be recording a video talking about fat necrosis, and how that has impacted my healing journey. It may be hard to see my own progress day to day, but looking back it's crazy to see how far I've come! I can't wait to see what it all looks like once we are finished with the major swelling period! As always, a huge thank you to @mdmoya.lewisburgplasticsurgery for your skilled work and taking the time to help educate others! ——————————————————————- #weightloss #weightlossjourney #fattofit #tattoo #fit #fitfam #determination #recovery #looseskin #excessskin #plussize #selfcare #skin #selflove #plasticsurgery #tummytuck #corsetbodylift #skinremoval #skinremovalsurgery #progressnotperfection #gym #fitnessmotivation #exercise #extremeweightloss #follow #selfcare #update #thighlift #transformationtuesday
A post shared by Brittany May (@miss_itty_britty) on
My weight loss changed every aspect of my life.
I went from watching life from the side lines to jumping in and actually living life. It started off as just a physical journey, but it turned into a mental journey, too. I finally learned to fully love myself. This helped me widen my social circle, which is how I met my now-fiancé, Dwight.
This journey has also set me up to potentially be a mother someday—something I never thought I could do at 514 pounds. Now, I can dream of having a healthy pregnancy, being fully present in my kids' lives, and making sure they know all about health and nutrition from day one.
I don't wish being 514 pounds on anyone, but I'm glad I went through it. Being able to use my journey of escaping morbid obesity, and now helping others, has been a humbling experience.
Source: Read Full Article