Why Doctors Are Disenchanted With Medicare
While physicians are getting less of a Medicare pay cut than they thought this year (Congress voted to cut Medicare payments by 2%, which was less than the expected 8.5%), Medicare still pays physicians only 80% of what many third-party insurers pay.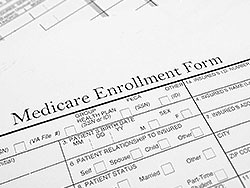 Moreover, those reimbursements are often slow to arrive, and the paperwork is burdensome. In fact, about 65% of doctors won't accept new Medicare patients, down from 71% 5 years ago, according to the Medscape Physician Compensation Report 2023.
Worse, inflation makes continuous cuts feel even steeper and trickles down to physicians and their patients as more and more doctors become disenchanted and consider dropping Medicare.
Medicare at a Glance
Medicare pays physicians about 80% of the "reasonable charge" for covered services. At the same time, private insurers pay nearly double Medicare rates for hospital services.

The Medicare fee schedule is released each year. Physicians who accept Medicare can choose to be a "participating provider" by agreeing to the fee schedule and to not charging more than this amount. "Nonparticipating" providers can charge up to 15% more. Physicians can also opt out of Medicare entirely.

The earliest that physicians receive their payment is 14 days after electronic filing to 28 days after paper filing, but it often can take months.

Physicians lose an estimated 7.3% of Medicare claims to billing problems. With private insurers, an estimated 4.8% is lost.

In 2000, there were 50 million Medicare enrollees; it is projected that by 2050, there will be 87 million enrollees.
Why Are Doctors Disenchanted?
"When Medicare started, the concept of the program was good," said Rahul Gupta, MD, a geriatrician in Westport, Connecticut, and chief of internal medicine at St. Vincent's Medical Center in Bridgeport. "However, over the years, with new developments in medicine and the explosion of the Medicare-eligible population, the program hasn't kept up with coverages." In addition, Medicare's behemoth power as a government-run agency has ramifications that trickle down irrespective of a patient's insurance carrier.
"Medicare sets the tone on price and reimbursement, and everyone follows suit," Gupta said. "It's a race to the bottom.
"The program is great for patients when people need hospitalizations, skilled nursing, and physical therapy," Gupta said. "But it's not great about keeping people healthier and maintaining function via preventive treatments." Many private insurers must become more adept at that too.
For instance, Gupta laments the lack of coverage for hearing aids, something his patients could greatly benefit from. Thanks to the Build Back Better bill, coverage of hearing aids will begin in 2024. But, again, most private insurers don't cover hearing aids either. Some Medicare Advantage plans do.
Medicare doesn't cover eye health (except for eye exams for diabetes patients), which is an issue for Daniel Laroche, MD, a glaucoma specialist and clinical associate professor of ophthalmology at Mount Sinai Medical Center in New York City.
"I get paid less for Medicare patients by about 20% because of 'lesser-of' payments," said Laroche. For example, as per Medicare, after patients meet their Part B deductible, they pay 20% of the Medicare-approved amount for glaucoma testing. "It would be nice to get the full amount for Medicare patients."
"In addition, getting approvals for testing takes time and exhaustive amounts of paperwork, says Adeeti Gupta, MD, a gynecologist and founder of Walk In GYN Care in New York City.
"Medicare only covers gynecologist visits every 2 years after the age of 65," she said. "Any additional testing requires authorization, and Medicare doesn't cover hormone replacement at all, which really makes me crazy. They will cover Viagra for men, but they won't cover HRT, which prolongs life, reduces dementia, and prevents bone loss."
While these three doctors find Medicare lacking in its coverage of their specialty, and their reimbursements are too low, many physicians also find fault regarding Medicare billing, which can put their patients at risk.
The Problem With Medicare Billing
Because claims are processed by Medicare administrative contractors, it can take about a month for the approval or denial process and for doctors to receive reimbursement.
Prior authorizations, especially with Medicare Advantage plans, are also problematic. For example, one 2022 study found that 18% of payment denials were for services that met coverage and billing rules.
Worse, all of this jockeying for coverage takes time. The average healthcare provider spends 16.4 hours a week on paperwork and on securing prior authorizations to cover services, according to the American Medical Association.
"A good 40% of my time is exclusively Medicare red tape paperwork," Rahul Gupta says. "There's a reason I spend 2 to 3 hours a night catching up on that stuff."
Not only does this lead to burnout, but it also means that most physicians must hire an administrator to help with the paperwork.
In comparison, industry averages put the denial rate for all Medicare and private insurance claims at 20%.
"Excessive authorization controls required by health insurers are persistently responsible for serious harm to physician practices and patients when necessary medical care is delayed, denied, or disrupted in an attempt to increase profits," Laroche said.
"Our office spends nearly 2 days per week on prior authorizations, creating costly administrative burdens."
For Adeeti Gupta, the frustrations with Medicare have continued to mount. "We're just at a dead end," she said. "Authorizations keep getting denied, and the back-end paperwork is only increasing for us."
Will More Doctors Opt Out of Medicare?
When doctors don't accept Medicare, it hurts the patients using it, especially patients who have selected either a Medicare Advantage plan or who become eligible for Medicare at age 65 only to find that fewer doctors take the government-sponsored insurance than in the past.
As of 2020, only 1% of nonpediatric physicians had formally opted out, per the Centers for Medicare & Medicaid Services. Psychiatrists account for the largest share of opt-outs (7.2%).
"Unfortunately, most doctors outside of hospital-based practices will reach a point when they can't deal with Medicare paperwork, so they'll stop taking it," Rahul Gupta says.
A coalition of 120 physicians' groups, including the American Medical Association (AMA), disputes that Medicare is paying a fair reimbursement rate to physicians and calls for an overhaul in how they adjust physician pay.
"Nothing much changes no matter how much the AMA shouts," Rahul Gupta tells Medscape.
What Can Doctors Do
Prescription prices are another example of the challenges posed by Medicare. When prescriptions are denied because of Medicare's medigap (or donut hole) program, which puts a cap on medication coverage, which was $4660 in 2023, Gupta says she turns to alternative ways to fill them.
"I've been telling patients to pay out of pocket and use GoodRx, or we get medications compounded," she said. "That's cheaper. For example, for HRT, GoodRx can bring down the cost 40% to 50%."
The American Medical Association as well as 150 other medical advocacy groups continue to urge Congress to work with the physician community to address the systematic problems within Medicare, especially reimbursement.
Despite the daily challenges, Rahul Gupta says he remains committed to caring for his patients.
"I want to care for the elderly, especially because they already have very few physicians to take care of them, and fortunately, I have a good practice with other coverages," he said. "I can't give up."
Lambeth Hochwald is a New York City–based journalist who covers health, relationships, trends, and issues of importance to women. She's also a longtime professor at NYU's Arthur L. Carter Journalism Institute.
Follow Medscape on Facebook, Twitter, Instagram, and YouTube.
Source: Read Full Article