Why Millennials Are Burnt Out on Swipe-Based Dating Apps
Thanks to Tinder, swiping through selfies has become a defining feature of many millennials' online dating experiences. Since its 2012 launch, the app's signature swipe-through format has become so ubiquitous that it's difficult to find an online dating app now that doesn't involve push your thumb left right or left on a potential match.
As of 2018, an estimated 4.97 million Americans have tried online dating, and over 8,000 dating sites exist worldwide—though Tinder is still the most popular dating app among single millennials. That doesn't necessarily mean that apps like Tinder lead to more dates, or that millennials even enjoy photo-centric, hot-or-not style dating apps. Many report feeling burnt out by the endless pile of strangers' selfies and underwhelming one-time hookups. Some are giving up on the apps altogether and looking for simpler, more selective ways of connecting, creating a surprisingly low-tech shift toward matchmaking, setups, and even old-school personal ads.
For a growing number of millennials, not only are their thumbs tired, swiping just isn't fun anymore. In fact, swipe culture may be keeping users off dating apps. As the Wall Street Journal reports, Hinge's user base grew by 400% in 2017 after it eliminated its swiping feature. Once, a dating app that sends users one suggested match per day, reached 7 million downloads last May. Still, swiping or not, some are giving up dating apps altogether, opting for offline dating and matchmaking services like Three Day Rule, which doubled its revenue in 2017, and now serves 10 cities in the U.S.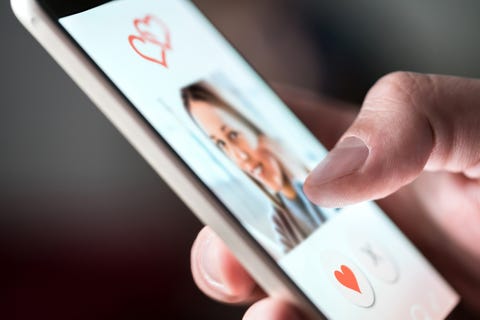 Getty Images
"The online dating thing never came naturally to me. I found the experience quite overwhelming," says Tina Wilson, CEO and founder of the matchmaking app Wingman who's in her 30s. "Trying to describe myself for a profile gave me anxiety, and trying to highlight my best bits just felt a little out of character for me." Wilson says she was frustrated by "generic" profiles on swiping apps that made it difficult to "get a sense of who a person really was." It was difficult to identify and filter out the guys who might not be right for her. "Left to my own devices, I didn't always pick the right matches for myself," she says.
Eventually, Wilson's friends got involved. "They had way better insight into who I should be dating and loved to tell me so," she says. She realized her friends could play a vital role in helping her meet a compatible partner, so she created Wingman, an app that allows users' friends play matchmaker—sort of like letting a friend take over your Tinder account.
According to Tiana, a twentysomething in California and also a Wingman user, swiping for matches on a dating app can feel like a waste of time. "I felt like I was constantly catfished by people and got fed up losing my time," she said. "My sister put me on Wingman as she felt she could do better. She introduced me to a guy that I wouldn't have been brave enough to approach and we hit it off so well, I couldn't actually believe it. It's been three months and things are going well."
Online matchmaking apps like Wingman, as well as in-person dating coaches and matchmaking services like OKSasha and Eflirt Expert, are helping millennial users make more meaningful connections when the likes of Tinder leave them frustrated. Outsourcing our dating lives to friends or hired matchmakers to vet and select dates beforehand not only creates a higher level of safety, but it helps us think about dating as an organic part of everyday social life. As Bumble's in-house sociologist Jess Carbino told Business Insider, spending less time swiping also gives us a better chance of actually meeting someone in person.
"It shouldn't feel like a job. Dating should feel like something that you're doing in order to meet somebody," Carbino said.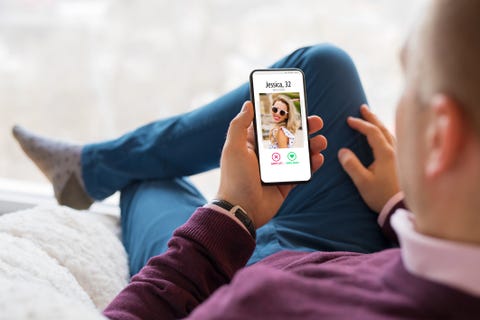 Getty Images
In addition to curated matchmaking services, text-based apps are also on the rise as millennials move away from swiping for dates and veer back toward more traditional methods of connecting. A spin-off of the popular Instagram account @_personals_, the Personals app will allow its lesbian, queer, transgender, and nonbinary users to post old-school personal ads. Though the app is still in development following a successful Kickstarter campaign, it promises to maintain its original text-based format. Users will have the opportunity to express their creativity and personality in their ads, and describe exactly what they're looking for in a long-term or one-night partner in their own words.
That's not a feature you usually get in typical swiping apps. Personals app users can peruse partners based on their personality and ability to express themselves—arguably two of the most important factors to keep in mind when considering a potential match. In fact, selfies are completely absent from the Personals Instagram account and future app. Without photos, some of the ads are hot enough to make even adventurous readers blush. Swiping on selfies can be fun, sure, but using your imagination can be a huge turn-on.
It's unlikely that millennials will ever age out of swiping apps completely, but that doesn't mean alternatives in online dating culture can't thrive. According to a Mashable report last year, dating app Hinge saw a significant rise in user engagement since eliminating its swiping feature, with three times as many matches turning into conversations. Those who seek out the professional help of a millennial matchmaker also report longer-lasting, deeper connections with dates unlike anything they ever experienced on Tinder or OKCupid, some of whom eventually become long-term partners.
For those looking for something different—a way to meet dates that feels more personal, more reflective of our individual needs, and with more room for nuance and personality—the options aren't as endless as the pool of Tinder matches but they can offer a greater chance of in-person meetings and potential second dates. The new wave of swipe-free apps and matchmaking services can't guarantee a soulmate. But they can help take some of the drudgery out of online dating and bring back some much-needed romance.
Source: Read Full Article