The 12 Best Vegan Protein Powders, According To Nutritionists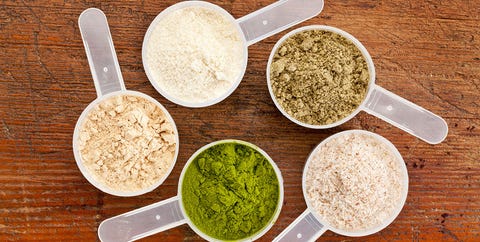 Raise your hand if you're a vegan who's sick of people asking you how you get enough protein. Same.
Even though there are *plenty* of ways to get enough protein with a plant-based diet, vegan protein power can help you meet your needs in a pinch.
"Some misconceptions about vegan protein powders are that you can't get enough protein with them, or they won't keep you full or provide all the essential amino acids," says Carolyn Brown, registered dietitian at Foodtrainers in New York City. While in fact, many vegan powders contain 15 to 30 grams of protein per serving, which is totally on par with whey protein powders.
Vegan protein powder also has a ton of fiber, notes Priya Khorana, R.D., which means it has the power to keep you fuller, longer.
And while most protein powders have a rep for tasting, well, revolting, times have changed. "Many come in newer flavors like salted caramel, coconut, or chai," says Andy Bellatti, R.D. They're not all soy, all the time, either. Popular brands are made from hemp, brown rice, or pea protein.
Try spiking your smoothies, iced coffee, or pancake mix, says Khorana. You can also make breakfast balls by mixing protein powder with your favorite nut butter and oats, then rolling them in chia or hemp seeds, says Monica Auslander, R.D.
Still not sure where to start? Here are the best vegan protein powders, according to dietitians.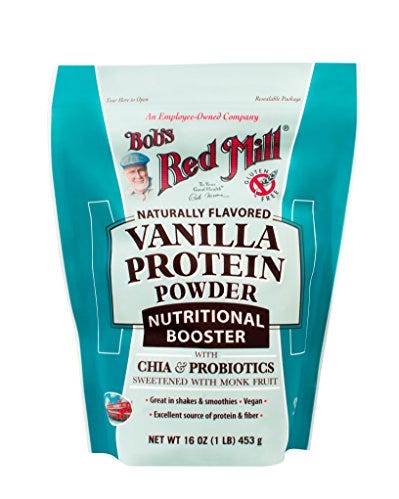 Bob's Red Mill
amazon.com
$18.55
SHOP NOW
"I'm a big fan of most products made by Bob's Red Mill, and they really got it right when they added fiber and probiotics to this plant protein blend," says Toby Amidor, R.D., author of The Healthy Meal Prep Cookbook.
The powder provides 20 grams of plant-based protein, 12 grams of fiber, and 35 percent of the daily recommended amount of iron per serving. "It's also gluten-free, soy-free, and dairy-free, for those who are sensitive to these ingredients," she adds.
NOW Foods
amazon.com
$57.19
SHOP NOW
"This vegan plant protein complex is made with a vegan blend of pea, hemp, and quinoa, providing 22 grams of protein per serving," says Amidor. The protein powder is free of dairy, gluten, eggs, nuts, soy, and sugar.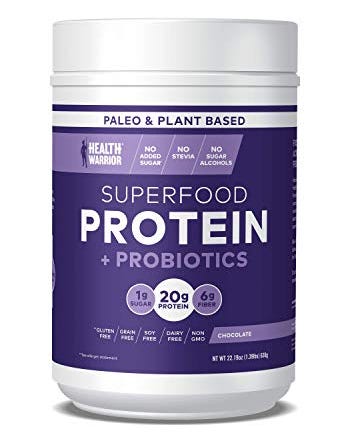 Health Warrior
amazon.com
$29.99
SHOP NOW
This vegan and paleo-friendly protein blend is derived from hemp, pumpkin, chia, and flax, and it provides 20 grams of protein per serving. "It's sweetened with monk fruit, which is a pretty good alternative sweetener," says Amidor. "It also has pro- and pre-biotics to help with gut health," she adds.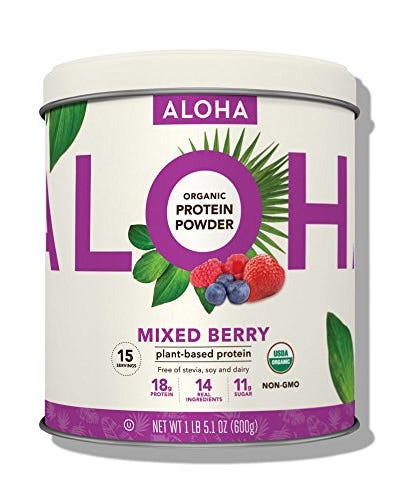 ALOHA
amazon.com
$25.24
SHOP NOW
This vegan protein powder has 18 grams of plant-based protein per serving, and is USDA certified organic and non-GMO. "With only 12 real ingredients, you can rest easy knowing what you're delivering to your body is made of only the best stuff," says Elizabeth Shaw, R.D.N. Plus, it has a complete amino acid profile and omega-3s, which many plant-based proteins don't have.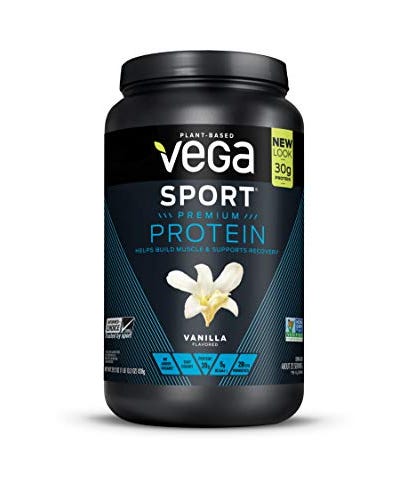 Vega
amazon.com

$54.99

$37.39 (32% off)
SHOP NOW
"A colleague who works with professional athletes turned me on to this vegan protein powder," says Maggie Moon, R.D. "A blend of plant proteins from peas, pumpkin seeds, sunflower seeds, and alfalfa make it a complete protein source."
This powder also has tart cherry for recovery, turmeric to fight inflammation, and probiotics to assist the gut, she adds. "I also appreciate that there are no artificial flavors, colors, or sweeteners," she says. One scoop packs 30 grams of plant protein.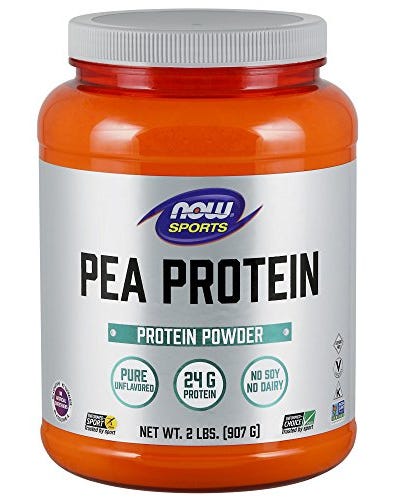 Now Sports
amazon.com

$27.99

$17.29 (38% off)
SHOP NOW
"I love that this protein powder has just one ingredient and, since it's unflavored, you can add it to any recipe you want," says Kelly Jones, R.D. "Another benefit is the texture—it's so smooth," she says, which makes it great for smoothies and shakes, as well as in protein pancakes and waffles, as a breading for meats or tofu, or in banana bread.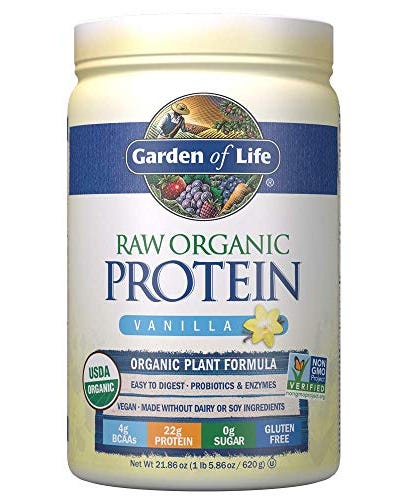 Garden of Life
amazon.com
$26.31
SHOP NOW
"Garden of Life Raw Organic gets its protein from a variety of sprouted gluten-free grains and seeds," says Jones. What's more, sprouted grains may improve absorption of protein and certain micronutrients, which can help those with digestive issues. "This powder also contains both digestive enzymes and probiotics to further support gut health," she says.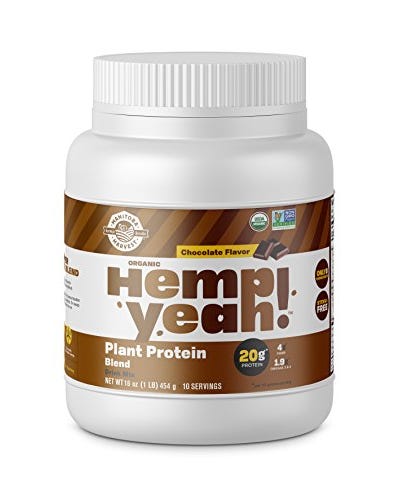 Manitoba Harvest
amazon.com
$21.59
SHOP NOW
"I love using Manitoba harvest chocolate 'hemp yeah' protein because it has a better texture than most hemp protein powders," says Jones. And at 20 grams of protein, along with four grams of fiber per serving, this vegan protein powder delivers in the nutrition department, too.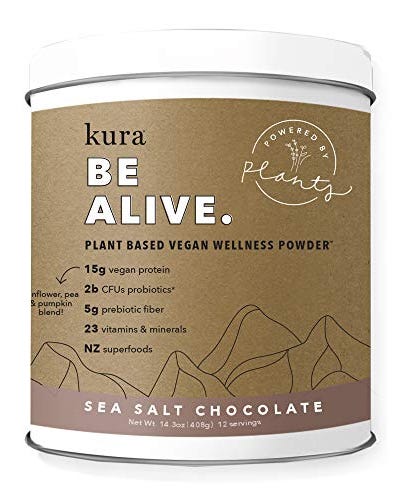 Kura Nutrition
amazon.com
SHOP NOW
"Kura Nutrition powders taste delicious and have really good quality ingredients," says Brooke Zigler, R.D.N. "Each powder is packed with 15 grams of protein and contains six grams of fiber per serving, with only three grams of added sugar," she says. The vegan powder comes in three tasty flavors: Vanilla Bean, Sea Salt Chocolate, and Chai Spice.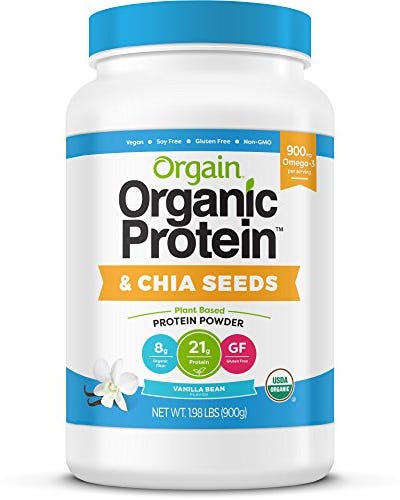 Orgain
amazon.com
$37.94
SHOP NOW
Blends like this one (made from a few different plant-based proteins) can help vegans diversify their protein intake. "I like a diversity of protein sources like pea, brown rice, and chia," says Brown.
"I love the added bonus of chia seeds," says Dana Angelo White, R.D., author of Healthy Instant Pot Cookbook, "which contain hunger-fighting fiber; plus inflammation-reducing omega-3 fats."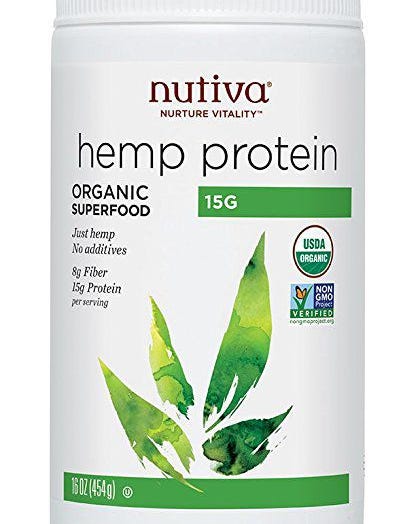 Nutiva
Nutiva
amazon.com
$11.69
SHOP NOW
This hemp protein powder has a lower protein count (at around 15 grams per serving) than some other vegan protein powders, but the hemp makes it highly digestible. "This means that it can work as a pre-gym supplement that won't cause stomach issues during your workout," says Khorana. Despite its higher fat content than other sources, it contains a ton of fiber and omega-3 fatty acids.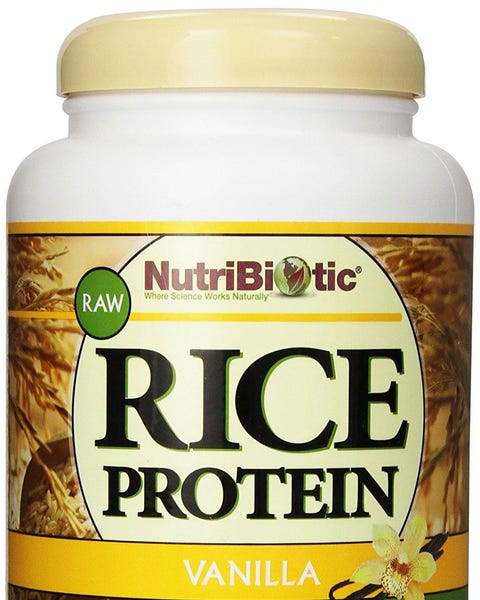 Nutribiotic
Nutribiotic
amazon.com
$23.99
SHOP NOW
Brown rice is considered to be the least allergenic of the plant protein sources (a.k.a. least likely to trigger food allergies) and is full of B vitamins, which aid muscle metabolism and growth. Yet it's not considered a complete protein on its own. "That means you'll need to pair it with tofu, quinoa, or beans to round out the nutrients you need," says Khorana.
Source: Read Full Article