New data is 'bad, bad' diet news. Here are the changes to make now
The pandemic may have changed the way we eat, upending our routines and leading some of us – I'll speak for myself – to eat the odd COVID-baked brownie for breakfast and eggs on toast for dinner. But, whatever changes we made, few have been for the better.
The latest Australian Bureau of Statistics data on the diets of Australians, published on Friday, paints a bleak picture.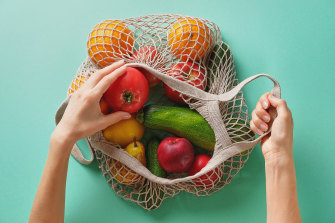 Meeting our nutrient targets may be challenging, but we can do it.Credit:Getty
Between 2020 and 2021, according to the survey of 11,110 households around the country, just 6.1 per cent of adults and 8.5 per cent of children ate the recommended two serves of fruit and five serves of vegetables.
It is "bad, bad news" says Clare Collins, a professor of Nutrition and Dietetics at the University of Newcastle.
"It's like we're sitting here watching all the lemmings go over the cliff and nobody has thought 'couldn't we put in some plans to divert them from the edge?'" she says.
Public health nutritionist Rosemary Stanton says that the reality may be even worse than the data suggests.
"My major concern about the data is that only 35 per cent of people responded," Stanton says. "That could mean that people who thought their diets were particularly bad may not have bothered."
As the lockdown affected the way data was collected, meaning it was not representative of all sub-populations, the ABS say the results can't be compared to previous years.
Still, the findings from previous years are similar. Despite greater awareness generally about nutrition, we still struggle to eat the nutrients our bodies need to be healthy.
In fact, according to recent data more than one-third of our supermarket spend and up to 60 per cent of some families' food budgets goes on discretionary foods – that is, foods not required for health that are high in saturated fat, added sugar, salt and/or alcohol. Poor nutrition is to blame for about 7.3 per cent of the total burden of disease in the country.
Doubling the GST on junk foods could reduce the consumption of unhealthy foods.Credit:iStock
Why is meeting nutrient targets so hard?
Taste, convenience, advertising and availability all play a part. As does the price of food. Australian research, published last year, found that meeting our nutrient targets would not be affordable for those in low socioeconomic or remote areas, and would cost as much as 35 per cent of the median household income.
Throw in the current fresh produce shortage with $10 lettuces and maintaining a healthy diet becomes challenging, even for those earning well above the median household income.
There is also the fact that food is a coping strategy for many, and no one ever reached for a lettuce when they were looking for comfort. There are cultural factors at play as well.
"Much of the takeaway culture exists because in many families, most food tasks are basically left to women," Stanton says. "Men sometimes cook – and younger ones are more inclined to do this than older men – but food needs to be a shared task… and it should be shared by all family members with appropriate tasks for smaller children."
Collins adds that coupled with the unequal distribution of domestic duties is the reduction of cooking skills in schools.
"Some schools don't even have kitchen facilities," Collins points out. "There's a national tragedy. Surely, we can graduate our kids from school knowing how to shop, cook and feed themselves?"
So, what can we do about it?
Both Stanton and Collins believe achieving the targets is possible and have ideas about how more of us might make that happen.
Loading

Increase the GST on junk foods: "We already know that when countries impose a 20 per cent tax on sugary drinks, consumption falls," Stanton says. "So doubling the GST (and reviewing the list of foods it applies to) would be a good start and help get the message across."

Find inspiration online: No money, no time is a free website created by Collins and her team at the University of Newcastle. It provides cheap, fast and healthy meal plans and ideas. Collins says that, based on current food prices, achieving nutrient targets is possible for about $60 a person a week. Ask Izzy is another site which provides information about community meals, food packages and vouchers as well as Meals on Wheels.
Use leftovers and use what's in your fridge before buying more: Each year Australians waste around 7.6 million tonnes of food, which is about 312 kilograms per person or $2000 to $2500 per household per year.
Consider your family's mealtime legacy: Cooking at home and eating together, instead of in front of the telly, as a household can provide sense of wellbeing and pride, Collins says. "What makes you feel connected and gives a better sense of wellbeing?"
Establish cooking in all schools and incorporate kitchen garden programs: "There are numerous studies showing that access to a garden (home, community or school) increases children's willingness to eat vegetables," Stanton says.
Swap this for that: "One cup of coffee is $5," Collins says. "Could you afford a lettuce if you gave up one coffee? Can you still spend money on the veggies you really like and then substitute others for canned and frozen?" She also suggests making meals more nutrient-dense (and affordable) via swaps like half the amount of mince in your bolognaise for a can of lentils.
Eat less meat: "If people ate according to the dietary guidelines, greenhouse gas emissions associated with food would be at least 25 per cent lower than they are with the average current Australian diet," Stanton says. "It doesn't mean no animal foods, but it does mean making more sustainable selection of animal foods and eating more plant-rich foods."
More support and education: Australia hasn't had a national nutrition plan since 1992, but there is money to be saved by helping Australians meet the guidelines, Collins says. "We've done a study on that which found over a 15-year period, the women who were always healthy eaters or the ones who improved had fewer medicare costs and charges."
Make the most of your health, relationships, fitness and nutrition with our Live Well newsletter. Get it in your inbox every Monday
Most Viewed in Lifestyle
From our partners
Source: Read Full Article