'I am enough': Young people tell us how mental illness affects them
In the past two years, conversations about mental health became more everyday.
Asking somebody "how are you?" wasn't just to exchange pleasantries; it was asked sincerely. How are you, really?
As journalists, we were at once reporting on the mental toll of the pandemic as well as living it.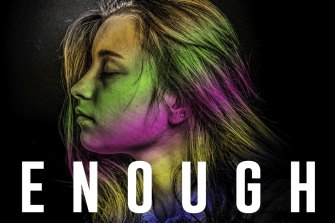 The Age and The Sydney Morning Herald have released a podcast series called Enough.Credit:Marija Ercegovac
In particular, it was impossible not to recognise the impacts that uncertainty and isolation were having on young people. Many of us at The Age and The Sydney Morning Herald have children, adolescents or young adults in our lives, and we saw their struggle with the loss of normal rites of passage.
It's why, in the depths of another lockdown in mid-2021, we began working on Enough, a new podcast series about youth mental health. We chose this title because the word "enough" will mean something different to anybody dealing with a mental illness. For some young people, it meant telling themselves: "I am enough".
The results of an exclusive Resolve Poll survey reveal that four out of five respondents aged between 16 and 24 were experiencing mental health issues (82 per cent) compared to half of those aged 25 and older (49 per cent).
Our goal for Enough was clear from the beginning: to elevate the voices of young people. A podcast seemed the perfect vehicle for them to tell us, in their words, what they were going through and what helped them.
Bound by COVID-19 restrictions, we met young people outdoors in backyards and noisy Melbourne parks. Others, we connected with over video calls.
Their comfort in sharing some of their darkest, most private moments was nothing short of inspiring. Many Australians don't know what it's like to have a panic attack, feel suicidal or battle disordered eating, but the young people we spoke to managed to articulate those experiences with a rawness that had the power to break away lingering stigmas.
Across six weekly episodes from today, Enough delves into depression, anxiety, suicidal ideation, eating disorders as well as the mental health of more vulnerable young Australians, including the LGBTQI+ and Indigenous communities and disadvantaged youths.
There was 18-year-old Alex, who is transgender and dealt with depression and self-harm while seeking acceptance of his identity. We met 19-year-old Molli, who found herself being haunted by her eating disorder during COVID-19 lockdowns. We heard from Anita, who emphasised the preciousness of life after surviving two suicide attempts. And for all their hardships, they still shone with energy and even humour.
The OECD has warned that the COVID-19 crisis has turned into a mental health crisis for young people. And as we were reminded over and over, young people's mental health is not about to have a snap recovery.
Support is available from Beyond Blue on 1300 22 4636 and Lifeline on 13 11 14.
Make the most of your health, relationships, fitness and nutrition with our Live Well newsletter. Get it in your inbox every Monday.
Most Viewed in Lifestyle
From our partners
Source: Read Full Article