Colorectal ESD Procedures: Feasible in Outpatient Setting?
Endoscopic submucosal dissection to remove large colorectal lesions was performed safely and successfully in an outpatient setting, based on data from more than 600 patients.
The widespread adoption of endoscopic submucosal dissection (ESD) has been slow because of its relative complexity, compared with other procedures, wrote Viktor Tidehag, MD, of Danderyd Hospital, Stockholm, and colleagues. The technique, first developed in Japan, is usually an inpatient procedure in Asian countries, the researchers said. However, "We have previously published a study of 156 ESD patients discharged after 2-4 hours of observation post ESD, providing a proof of concept that uncomplicated colorectal ESD can be safely performed as an outpatient procedure," they wrote.
In a study published in Gastrointestinal Endoscopy, the researchers reviewed data from a larger group of 660 consecutive colorectal ESD procedures at a single center between April 2014 and November 2020. Of these, 48 were planned admission and 612 were scheduled as outpatient procedures. All patients had lesions greater than 20 mm; the median size of the lesions was 38 mm, but the median lesion size was significantly smaller for outpatients, compared with inpatients (37 mm vs. 55 mm). The lesions included 323 (48.9%) in the proximal colon, 102 (15.5%) in the distal colon, and 235 (35.6%) in the rectum. The median procedure duration was 70 minutes, but was significantly shorter for outpatients, compared with inpatients (65 minutes vs. 121 minutes). The mean age of patients in the outpatient and inpatient groups was 68.7 years vs. 70.6 years.
Overall, en bloc resection was achieved in 620 (93.9%) cases, 30 were completed as piecemeal resections, and 10 were aborted and referred for surgical resection. A total of 33 of the scheduled outpatient procedures turned into unplanned inpatient procedures.
As for intraoperative adverse events, no significant differences in perforation rate occurred between inpatients and outpatients. Overall, perforation occurred in 38 cases (5.8%); 35 of these were treated with clip and 21 also were treated with antibiotics. A total of three patients required emergency surgery following perforations.
Within 30 days of the procedures, 46 patients (7.0%) sought medical attention for possible procedure-related concerns, the researchers said. "No correlation was found between 30-day complications and lesion location, resection speed, age, or perioperative perforation," the researchers wrote in their discussion of the findings.
The study findings were limited by several factors including the retrospective, nonrandomized design from a single center, with no controls, as well as the potential for selection bias of healthy patients selected for outpatient procedures, and lack of data on comorbidities, the researchers noted. However, the results were strengthened by the inclusion of a large number of lesions in the proximal colon, they said.
Endoscopic treatment is associated with lower mortality and morbidity, as well as lower costs, compared with laparoscopic and open surgery, and ESD could have a significant effect on health economics if widely implemented, the researchers noted in their discussion. "Being able to perform ESD in an outpatient setting compared to an inpatient situation would further decrease treatment costs compared to resection surgery," they said. However, "patients must be well informed about the anticipated postoperative course and potential complications that can arise," particularly in relation to intraprocedural or delayed perforation, they concluded.
Data Support Adoption of ESD
The current study was informative and will provide more support for adoption of colorectal ESD in the West, said Salmaan Jawaid, MD, of Baylor College of Medicine, Houston, in an interview.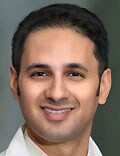 Dr Salmaan Jawaid
"Health economics in Asian countries are strikingly different than in other countries and support routine postprocedural admissions for observation," Jawaid said. "Colorectal ESD has been slow to gain momentum in the West due to a steep learning curve, long procedural times, and the potential for complications with resultant hospital admissions. These logistical elements and impact on health care economics in the West serve as tremendous deterrents [of] adoption of colorectal ESD," he explained.
"The current study demonstrates colorectal ESD, in a European health care system, may be feasible and safe in an outpatient setting, thereby effectively utilizing health care resources," said Jawaid. "If admission after colorectal ESD is not routinely needed, health care systems may be more willing to support ESD on a broader scale with a consequent increase in surgery-saving procedures," he noted.
Jawaid said he was not surprised by the findings overall. "However, I did find it interesting the number of patients who were safely discharged the same day after suffering colonic perforations," he noted. He suspects improved methods of defect closure would explain this, and could in turn increase the rate of adoption.
"In experienced hands, I believe similar results will be attainable in a U.S.-based health care system," he added.
However, "Validated protocol-based clinical pathways are needed in the West before widespread outpatient colorectal ESD is implemented. In the United States, emphasis should be made on the development of long-term educational systems whose primary goal is to ensure proper skills are acquired for endoscopic dissection," he emphasized. "If support from a U.S. health care system is desired on a larger scale, detailed cost-benefit analyses are needed comparing all modalities of colon polyp removal."
The study received no outside funding. The researchers had no financial conflicts to disclose. Jawaid disclosed serving as a consultant for Lumendi and Conmed.
This story originally appeared on MDedge.com, part of the Medscape Professional Network.
Source: Read Full Article